Performance

Exterior Design

Interior Design

Technology

Safety

Trims
Maserati Ghibli at Maserati of Alberta
Step into the extraordinary, and step into the 2023 Maserati Ghibli, a sedan that is anything but ordinary. The new Ghibli redefines what it means to be a sedan, so don't expect a boring or complacent ride when you step inside of this Maserati masterwork. Our Maserati of Alberta dealership in Calgary is your local destination for the new 2023 Maserati Ghibli. Follow along with our team as we take a thorough look at the Ghibli, through performance, design, technology and safety.
Craftmanship and Performance
Depending on your trim, drive with the high performance that comes out of the V6 or V8 engine. Engines that need to be heard to feel their true thrilling nature, a unique experience that rounds out the Maserati driving experience. Beyond the engines, the Skyhook suspension, brakes and aerodynamic build create a sports sedan that's ready to perform. The Intelligent All-Wheel Drive system on the Modena Q4 ensures that your Ghibli will perform exceedingly well in the snowy Alberta winter months, knowing it can take on all matters of weather with superior traction. Put simply, the 2023 Ghibli is a high-performing marvel that delivers an unmatched drive.
Engine
3.0L Twin-Turbocharged V6
Transmission
ZF 8-speed automatic
Acceleration (0-100 km/h) (secs)
4.7
Fuel Consumption (combined) (L/100 km)
11.9 - 12.0
Everything starts with that iconic Maserati grille on the front of the Ghibli, led forward by the legendary Maserati trident and oval design. The front end of the Ghibli, alone, states its presence immediately. The rear of the Ghibli has been terrifically focused upon as well, taking inspiration from the Giugiaro Maserati 3200 GT and its boomerang rear lights. Followers will be mesmerized by the high quality LED that takes up residence at the back of the vehicle. Dual-pane glass allows you to keep your bubble from the outside world, letting you fully relax with your favourite music, or just conversation. A sedan with a coupe-like profile, the Ghibli further redefines what it means to be a sedan in the modern age.
Convenient Cockpit
From the steering wheel to the gearshift paddles to the accelerator, every feature inside the cockpit is wonderfully focused around the driver for incredible ease of use.
Italian Style
The Ghibli was made with only the finest of Italian materials and handcrafted touches. Get lost in the natural silk upholstery, made exclusively for Maserati by Ermenegildo Zegna.
Wireless Charging
Looking ahead to the future in many ways, as it balances a low-profile and streamlined cockpit, the Ghibli offers a wireless charger that provides for simple charging and phone storage in its dedicated area.
From user connectivity, to tailored driving modes to the best in sound quality, the 2023 Ghibli presents a wide array of entertainment and assistive technologies.
Maserati Connect
Maserati Connect ensures you are linked to your Ghibli at all times, whether inside or out. From service alerts to emergency assistance, stay connected through the Maserati app.
Driving Modes
Tailor your drive to the environment around you thanks to the presence of multiple driving modes. Normal (normal and auto), Sport (manual and auto), I.C.E. (Increased Control & Efficiency) and Cora (only on the Trofeo trim) all serve you when you need them most.
Maserati Intelligent Assistant
Maserati Intelligent Assistant sees a new generation of power and the best in all-encompassing user interactivity. Its 10.1-inch HD touchscreen features a 16:10 ratio and a slick graphic interface for simple ease of use.
Sound Systems
The Ghibli can feature either a Harman Kardon or Bowers & Wilkins sound system, allowing you to get the most out of your music, podcasts or audiobooks on your next ride.
Every Maserati vehicle arrives at the intersection of luxury and safety, and the Ghibli is no different. The Level 2 Advanced Driving Assistance systems found onboard the Ghibli are present to react to the hazards of the road, and provide your drive with both safety and convenience. Active Driver Assist remains a highlight of the Ghibli's safety ability, centring you in the middle of the lane and letting you know of anyone who may approach. This system perfectly assists in a wide range of driving situations, from highway to bumper-to-bumper transit.
2023 Maserati Ghibli Trim Levels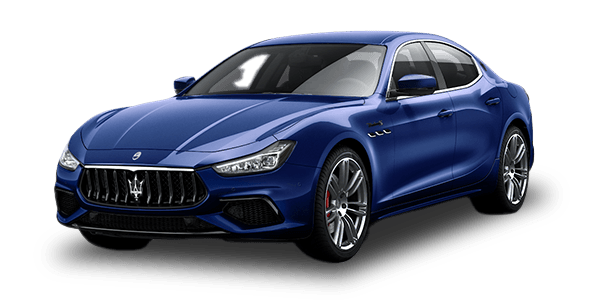 V6 Engine

424 Horsepower

286 km/h max speed

All-wheel drive
V8 engine

572 horsepower

326 km/h max speed

Rear-wheel drive
Maserati of Alberta is here for all of your Maserati needs in Calgary. Shop for this new 2023 Ghibli, one of our other luxurious models, or get service and parts assistance for your current model. Contact us with any questions, or fill out the form below to book a test drive.